August 31, 2021
AMBER BUSINESS CENTRE REACHES FULL OCCUPANCY – 62 UNITS TOTALLING 400,000FT2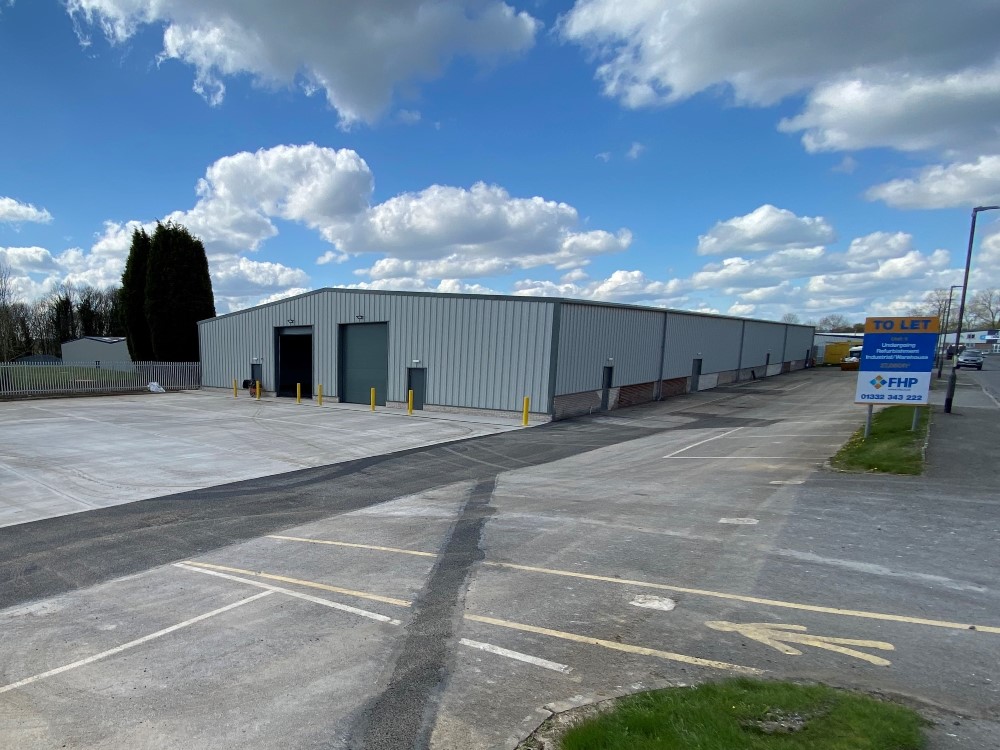 The industrial/warehouse sector has been extremely active throughout the first half of 2021 and demand has far outweighed supply across Derbyshire and the wider East Midlands.  FHP Property Consultants are pleased to announce that Amber Business Centre which is situated in Riddings, Alfreton, has achieved full occupancy for the first time in over five years following the recent letting of Unit 5 to Abby Logistics.
Unit 5 comprises a detached industrial/warehouse unit which has undergone a full refurbishment to include new cladding, level access and tailgate level loading doors, new windows and roof lights, LED lighting and offices.  The accommodation provides a total of 27,222ft2 and benefits from a yard to the front and rear of the property.
Amber Business Centre was purchased by Mileway, the leading pan-European logistics real estate company, approximately three years ago.  During that time Mileway have been working with FHP Property Consultants to not only reduce voids but increase rental values.
Darran Severn of FHP Property Consultants commented:
"There are not many multi let industrial estates in the region that contain over 60 units totalling some 400,000ft2 and to achieve full occupancy here is fantastic.  More pleasingly rental levels have significantly increased during that time and we have seen an increase of circa 10% over the last 12 months alone.  Unit 5 had undergone an impressive refurbishment and let with weeks of completion of the works".   
Max Pearson, Asset Manager at Mileway commented:
"The letting of Unit 5, the last vacant unit on the estate, demonstrates the value created through the £1.2M refurbishment. We are delighted FHP has helped us secure Abby Logistics as a customer and are excited by the continuing strength of the Midlands industrial market." 
For further information, please contact Darran Severn of FHP Property Consultants on 07917 460 031 or darran@fhp.co.uk.
ENDS
Darran Severn
31 August 2021