July 7, 2016
FHP AGREE OFFICE SALE IN THE PROFESSIONAL QUARTER OF NOTTINGHAM CITY CENTRE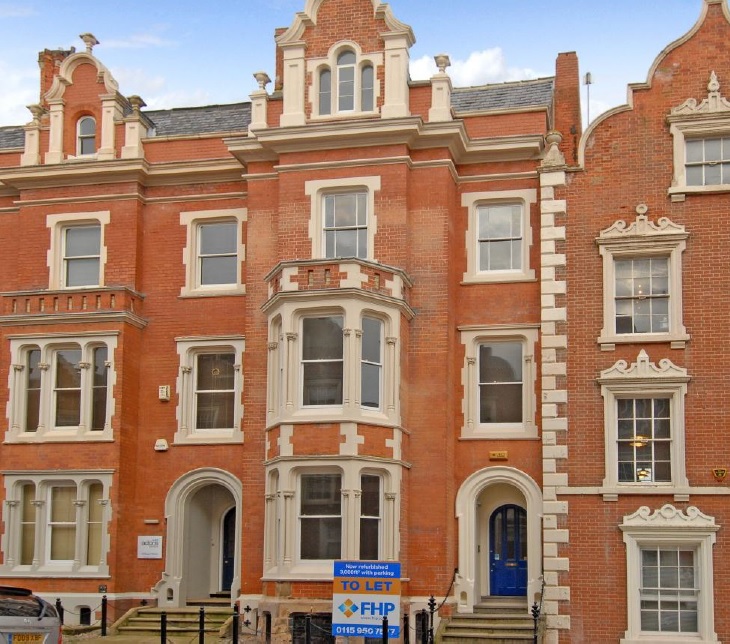 FHP Property Consultants have recently concluded a sale of 14 Regent Street an attractive Grade II listed regency office building in the heart of Nottingham's Professional Quarter.  The property has been purchased by Capatex, a local textiles company as part of servicing their business expansion.
The surplus space of the property is also due to be made available to local businesses as a serviced office centre, offering flexible lease terms on all-inclusive rental terms available at considerably more affordable levels than many of the larger serviced office centres.
Mark Tomlinson, Associate Director at FHP Property Consultants, who concluded the sale, commented:
"This professional quarter of Nottingham City Centre remains popular with owner occupiers with the majority of the transactions in the area being made on a freehold basis. I am delighted that 14 Regent Street is being retained for offices use as an increasing number of properties in this area have been converted to residential use, as a result of the relaxation on the planning rules of conversion of office buildings to residential property.
I am sure that once this building is offered as flexible office space, we will see good levels of interest given the lack of available office quality supply for local businesses in this area."
For further information on this property please contact Mark Tomlinson on 0115 841 1134 or mark@fhp.co.uk.