April 12, 2018
FORMER PARK YACHT CLUB SOLD BY FHP AND SAVILLS FOR A WATERFRONT APARTMENT DEVELOPMENT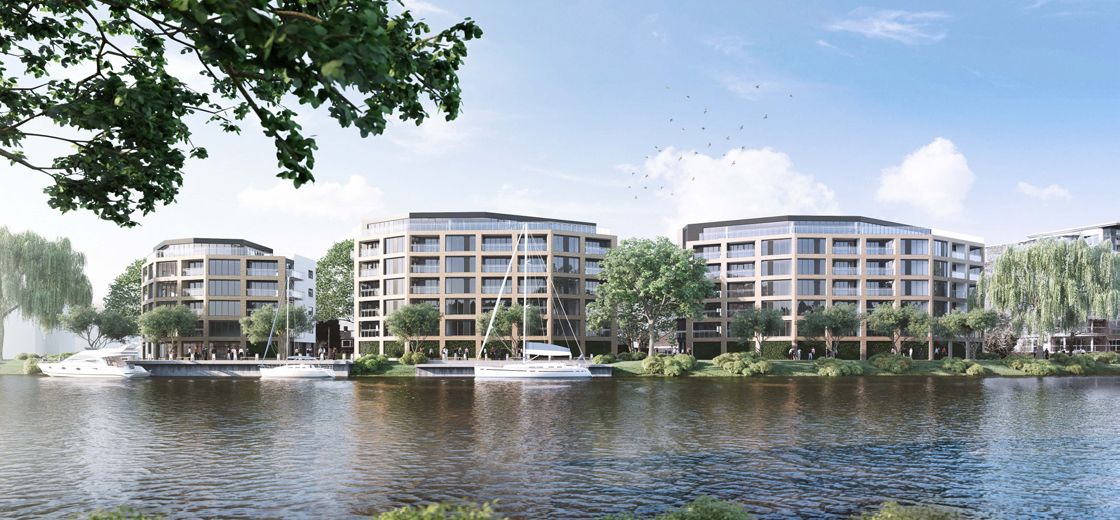 FHP, FHP Living and Savills have completed the sale of the former Park Yacht Club site adjacent to the River Crescent apartment scheme off Trent Lane in Nottingham for £3.25 million.
David Hargreaves said:  "The site which has Planning Consent for a Franklin Ellis designed, 81 unit private apartment scheme in 3 blocks, all with direct views on to the River, has been sold to Leeds based developers KMRE Group, who were introduced to the site and advised on its acquisition by Richard Watson of Colliers' Leeds Office."
Hargreaves went on to say: "Nottingham is now very much on many developers' "hit list".  This is due partly to the nervousness around the state of the London housing market and concerns of "overheating" due to the significant increases in apartment supply in cities such as Manchester, Birmingham and Leeds.
Furthermore, the positive PR about Nottingham recently including Nottingham Trent University winning "University of the Year" and the success of its Business School, the continued development of The University of Nottingham and various articles in the National Press listing Nottingham as one of the best places to invest, have helped considerably.
Furthermore, you cannot ignore the huge PR benefit to the City of Harry and Megan's first public engagement together in Nottingham recently, when the eyes of the world were on us, which led to a major increase in enquiries across the board.
Ann Taylor of Savills commented:  "This is a really exciting scheme complimenting the surrounding activity and linking the developments along the River Trent.
Between us we received a number of bids for the site, mainly from out of town developers and we are delighted that the sale to KMRE has now completed.
We are finding much more interest generated in sites from both developers active in the East Midlands as well as other provincial cities.
Steve Parker of FHP Living, who has sold the first phase of the adjacent Trent Bridge Quays Development and a number of penthouses in River Crescent, said:
"KMRE have been great to work with and have done what they said they would do. They have been very impressed with Nottingham as a whole and at MIPIM recently we were able to introduce them to a number of members of "Team Nottingham" including the Leader of the Council and the Chief Executive which helped push the deal over the line."
Kam Mogul, owner of KMRE Group, went on to say:
"KMRE are currently building a 87 unit apartment scheme in Leeds at Mabgate and a 111 apartment PRS scheme on Kirkstall Road in Leeds and look forward to bringing our skills and expertise to Nottingham – the Park Yacht Club is a wonderful site right on the River, and everyone loves to live by the water, so when you add in the site's proximity to the City Centre and West Bridgford we expect the site will sell really well."
Nick Gould – Sales Director for KMRE, added:
"We are really looking forward to getting on site and starting this development, whilst at the same time looking for 2 or 3 more development opportunities in Nottingham to cement ourselves as an important player in the evolving Nottingham market.
We have been massively impressed with the help we have had from FHP and FHP Living and the companies and individuals they have introduced us to, and look forward to developing here for years to come."
Andrew Inchbald of McCann Homes who sold the site said:
"We have owned the site for a number of years and working with David Franklin of Franklin Ellis worked up a stunning apartment Scheme which now has Planning Consent and is immediately deliverable.  We have been working with David Hargreaves and Steve Parker throughout this time and more recently Ann Taylor of Savills, and we are delighted with the final outcome."
FHP, FHP Living and Savills acted for McCann Homes, whilst Colliers acted for KMRE Group.
END
David Hargreaves
Date:  10 April 2018