July 19, 2021
MAJOR WAREHOUSE SALE CONCLUDED AT SHERWOOD BUSINESS PARK, JUNCTION 27 M1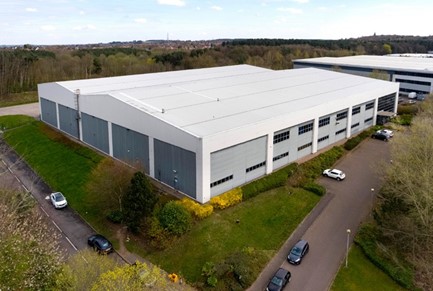 Schroder Real Estate has completed the sale of Sherwood 80 at Sherwood Business Park, Nottingham to SureScreen Holdings Limited.
The property is an 80,000ft² modern warehouse located near Junction 27 of the M1, and the deal was agreed by Chris Proctor and Tim Gilbertson of FHP Property Consultants on behalf of Schroder Real Estate.  SureScreen Holdings were unrepresented in the transaction.
It is one of the most significant vacant possession sales within the region in recent times.
Chris Leek, Fund Manager at Schroder Real Estate, commented:
"Sherwood 80 offers an established, quality location but had been vacant for some time prior to us becoming responsible for the property in March 2020.
Interest in the building increased following the completion of maintenance and improvement works, and we were happy to work to a tight deadline with SureScreen so they could deliver additional Covid-19 rapid testing.  The sale is ahead of the independent valuation as at 31 March 2021 and effectively reflects leasing stabilisation, whilst selling with vacant possession."
Alex Campbell, Director of SureScreen Holdings Limited, commented:
"We needed a high-quality manufacture and distribution centre for our Covid tests after a very substantial order from the UK government.  The Sherwood 80 deal has helped us go ahead with our major expansion, and we would like to thank FHP and Schroder for their help which enabled a quick turnaround."
Chris Proctor and Tim Gilbertson of FHP Property Consultants commented:
"This is a significant industrial sale for the region, which highlights the strength of the current market.  SureScreen required space quickly to fulfil its current contracts and working with our client, we were able to structure a transaction and swift sale.  
We are delighted to have concluded this sale for Schroders, which has provided an excellent exit strategy and equally a superb new facility for SureScreen, the purchasers."
ENDS
For further information on the deal or to discuss your property requirements, please do not hesitate to contact Chris Proctor (07747 464 770 / chris@fhp.co.uk) or Tim Gilbertson (07887 787 893 / tim@fhp.co.uk) of FHP Property Consultants.
Chris Proctor
Associate Director
19 July 2021