June 10, 2022
SOLD – DEAL DONE ON FIVE TRADE COUNTER UNITS AT CASTLEWOOD BUSINESS PARK, J28 M1 (ONE UNIT STILL LEFT TO RENT!)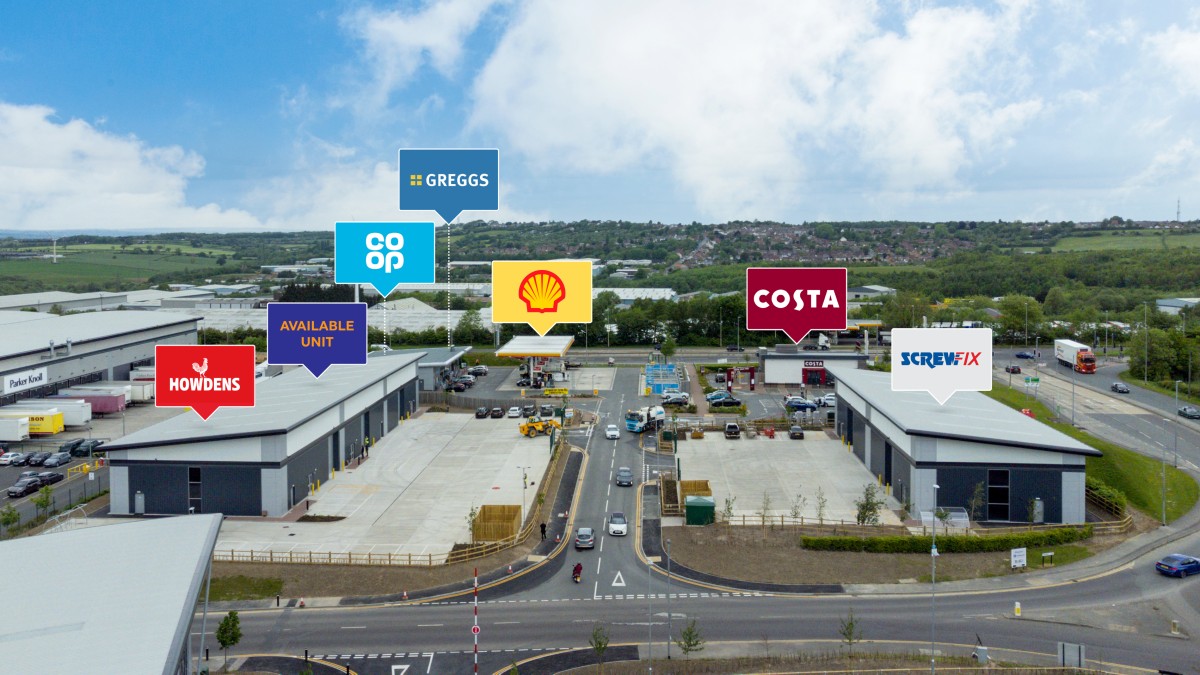 As agents for Clowes Developments on their fantastically successful Castlewood Business Park at Junction 28 of the M1 Motorway, FHP Property Consultants are pleased to confirm the further disposal of five trade counter units fronting the A38 and adjoining the access road to the business park.
Positioned alongside the successful Shell Petrol Filling Station, Greggs and Costa Coffee units adjoining the A38 which continue to trade very well, the latest deal sees five trade counter units disposed of, four let to renowned trade counter operators Screwfix and Howdens Joinery, both taking two units each.
Therefore, the final unit on this five unit scheme is available and provides a terrific opportunity for trade counter or even standard warehouse or industrial operators to lease prime new build space adjoining the A38 and within minutes of Junction 28 of the M1 itself.
The deal for the disposal of the five units was brokered by Tim Gilbertson of FHP who commented:
"It's great to see further quality additions to the fantastic list of occupiers we have at Castlewood Business Park.  With the best part of 2,000,000ft² now built on site, the disposal of these five small trade counter units really augments the scheme as they sit prominently at the entrance to the estate adjoining Costa Coffee, a Shell Petrol Filling Station and Greggs.
The strength of the location is clear from the fact that four of the units have been let already, Howdens Joinery taking two and Screwfix taking two, and both should be up and running and trading in the very near future.
The last unit therefore represents a fantastic and final opportunity on the site for a trade counter business or indeed a more standard warehouse or industrial occupier to take prime space and benefit from fantastic passing trade, together with superb access to the A38 and M1 at Junction 28.
The final unit extends to approximately 370m² (3,982ft²) and is available for occupation now.
I'm sure this will be snapped up quickly by an occupier wanting to benefit from the fantastic location and terrific footfall created by the adjoining household name occupiers.
The disposal of these five trade counter units isn't the most recent deal at Castlewood though, a further unit of 18,000ft² has been bespoke built and sold to a local occupier and more details will be revealed shortly."
Development Director of Clowes Developments, James Richards who has overseen Castlewood from its inception commented:
"We are delighted at this latest deal, having lived and breathed Castlewood now for nearly 15 years, it's terrific to see the huge range of quality occupiers we have and I'm sure the final unit on this scheme will be let quickly.
We have news of other deals at Castlewood to bring forward shortly and I'm sure that this market-leading business park will continue to go from strength to strength as we reach the point of nearly having developed out the entirety of the scheme."
For further information on the last available trade counter unit at Castlewood Business Park, please contact either Tim Gilbertson (07887 787 893 / tim@fhp.co.uk) or Chris Proctor (07747 464 770 / chris@fhp.co.uk) of FHP Property Consultants.
ENDS
Tim Gilbertson
9 June 2022