July 8, 2021
WAREHOUSE / PRODUCTION SPACE TO RENT AT JUNCTION 28 M1 – FHP LAUNCH ALBERT MARTIN BUSINESS PARK, SUTTON IN ASHFIELD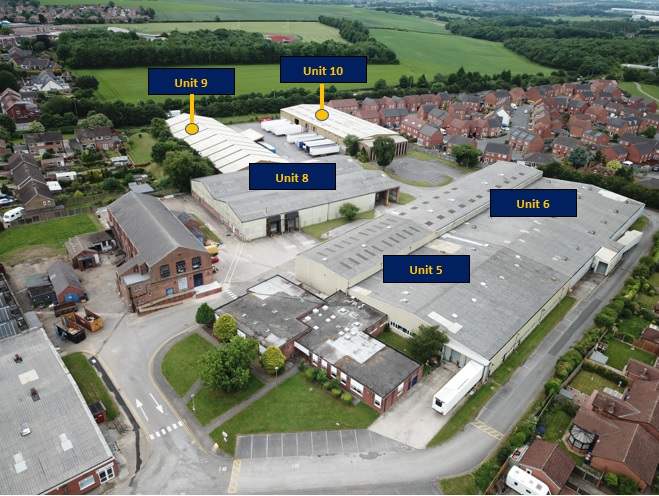 Distribution and manufacturing space in the East Midlands has been at a premium now for some months – strong demand and limited availability has seen rents rise and deals conclude quickly on good quality accommodation.
Therefore, FHP are delighted to bring to the market four buildings at Albert Martin Business Park just off the A38, within a few moments drive of Junction 28 of the M1 motorway, which are immediately available to view, offering cost-effective well specified accommodation on a shared site.
Each of the four buildings to be marketed benefits from its own allocated car parking, delivery access and yard, and a vast range of sizes are available from as little as just over 20,000ft² upwards.
Tim Gilbertson commented:
"It's great to have this much needed new space come to the market at a time that continues to see remarkable levels of demand.  Each of the buildings we have here are cost-effective and perhaps most importantly benefit from quick access to the local labour forces in Sutton in Ashfield, Kirkby in Ashfield and Mansfield, and are set literally adjoining the A38 and therefore within moments drive of Junction 28 of the M1.
My colleagues Anthony Barrowcliffe, Chris Proctor and myself are launching this scheme in the next couple of days and we are convinced that we will receive strong interest.  Therefore, we hope that any potential tenants will want to view quickly as we can't imagine this space will be around on the market for long."
Anthony Barrowcliffe of FHP added:
"What Tim says is quite right, the proximity to the local workforce plus ease of access to the A38 and M1 really should make these buildings sought-after and from our initial discussions with existing enquiries, we already have a couple of viewings lined up and anticipate more in the near future."
Chris Proctor concluded by commenting:
"The East Midlands industrial and distribution market over the last 12 months or more has been remarkable, demand continues and supply is low, and it's great that this availability of good quality stock might help some local businesses who have been frustrated in their needs to expand and develop.  Please contact either myself or my colleagues in the Nottingham office of FHP to arrange to view."
To discuss the opportunities or to arrange to view these great buildings, please contact either Anthony Barrowcliffe (07557 972 008 / anthony@fhp.co.uk), Chris Proctor (07747 464 770  / chris@fhp.co.uk) or Tim Gilbertson (07887 787 893 / tim@fhp.co.uk) of FHP Property Consultants.
ENDS
Tim Gilbertson
Director
8 July 2021